18 April 2011


LÁCTEOS MARTÍNEZ S.L. BEGINS THE ACTS OF ITS 50th ANNIVERSARY, WHICH EXTENDS THROUGH THIS 2011.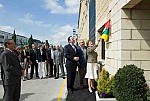 The celebration started with an official act in its cheese factory, the last 15th of April.
The act was attended by La Rioja´s President, Mr. Pedro Sanz, , The Chamber of Commerce's president, La Rioja Entrepreneur Federation's President; Marketing Club's General Director, and other authorities ,like the mayors of the close villages.
During the event, the founders uncovered a plaque in honor of their career in the cheese world.
Nowadays, their sons are the motor of this company, but it couldn't be possible without their parents help and initiative.
Further acts will continue during 2011 and can be followed via our blog (www.culturadelqueso.com), on Facebook (www.facebook.com/culturadelqueso) and Twitter, (www.twitter.com/culturadelqueso) plus a photo channel in Flikr (www.flickr.com/photos/lacteosmartinez).