15 February 2012


REGULATORY COUNCIL OF THE D.O.P. CAMERANO CHEESE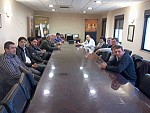 The last 14th of February 2012, the Regulatory Council of the D.O.P. Camerano Cheese, had held a meeting. In this meeting the members had analyzed the 2011 year and had approved the new budget for this year 2012.
The people who had attended to this meeting, was about 80% of the total members.