11 December 2012


THE EU HAS APPROVED IN BRUSSELS THE P.D.O. CAMERANO CHEESE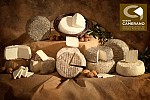 From today, the P.D.O. "Camerano Cheese" is included in the list of more than 1.000 quality European food-processing products, which are protected by the UE laws.
This new has been received whith satisfaction by the Regulatory Council. Our Presiden Javier Martínez, states that this is a support which will facilitate us the entry in new international markets.
Camerano Cheese is already been expported to countries as Germany, United Kindom, Belgium, Holland, Poland, Slovakia, Russia, and the United States.